Wow! Well it seems like it might be happening!!! I am actually going to finally own my Golden Retriever! In some ways it isn't the best time in my life to be doing this, money is kinda low after the wedding, and my husband hasn't yet got himself a job here (partly because Canberra being the capital of Australia, being small-ish and very government focused, has mostly government jobs you need citizenship for, and he's British). We are also living in a rented house, which doesn't have the greatest back yard.
However, in other ways it is exactly the right time. For the first time in about three years I am starting some work, volunteering work, but still - work. Having an assistance dog would help me take that forward towards solid part time paid work, considering he won't be fully trained for 18-24 months or so. Also, despite my illness, I would like to think in three or so years I will be hopefully well enough to try to have a baby. I would have to come off a bunch of my medication and it would risk making it me sicker, but I really really want to try. So I would like to have my assistance dog fully functioning before then.
(continued from first page)
This is the dam, who doesn't yet have her Championship due to maternal duties (when she was a bit younger - I have no up to date photo at the moment, apparently she is a bit darker than that now).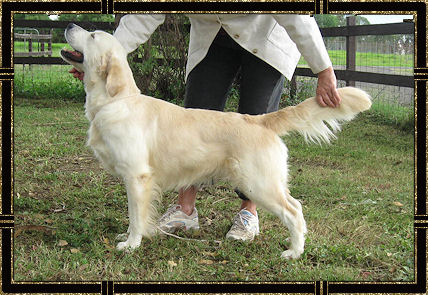 And this is the sire, who is a Champion, and the son of a Grand Champion. Apparently the puppies are a light cream colour, so they must take after their sire.
I am not naive, I know wash out rates are high. It just may not work out. Or he may be able to help me around the house, but may not stand up to the stress of public access work. However, I am ready to do all I can to make it work.
I tell you what though, it will be so very hard to say no to those bundles of fluff if temperament testing tells me that none of the three are suitable. :( :( It'll save a whole lot more heartache in the future, but still.
***Update: Deposit done!!!